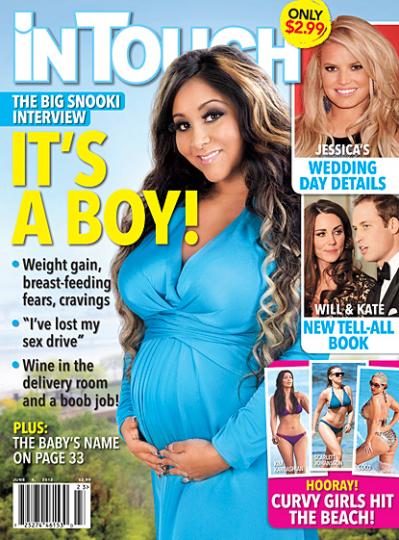 I'm not to happy that my only news of the day is Jersey Shore related, but it's all I find in a busy day that's somewhat celebrity-buzz worthy.
The reality TV star, Nicole Polizzi, or Snooki as she's known announced that she and her fiance Jionni LaValle will be having a baby boy who is expected later this summer, according to YahooTV. Snooki told In Touch magazine that she was actually expecting a girl. "I was hoping it would be, because all girls want girls", she said but all that aside, "It's still my baby, no matter what. I'm excited either way!" (YahooTV via In Touch) The couple has narrowed baby names down to two, Lorenzo and Jionni Jr.
And that's not all, the reality star won't be living in the Jersey Shore house when filming begins for it's sixth season--well, obviously--instead she'll be in a place of her own. That is perfect because she needs to be away from all that craziness.
Source: YahooTV