Here are a few movies opening in theaters today.
Real Steel
, starring Hugh Jackman
"Set in the near future, where robot boxing is a top sport, a struggling promoter feels he's found a champion in a discarded robot. During his hopeful rise to the top, he discovers he has an 11-year-old son who wants to know his father." (
IMDb)
Click here for the trailer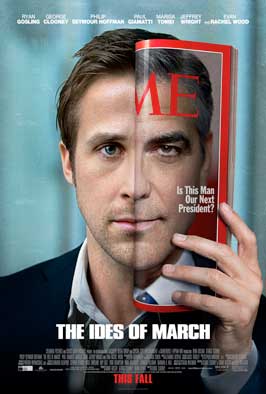 The Ides of March
, starring George Clooney and Ryan Gosling
"An idealistic staffer for a newbie presidential candidate gets a crash course on dirty politics during his stint on the campaign trail. Based on the play by Beau Willimon." (
IMDb
)
This looks like it's going to be a good one.
Click here for the trailer
Dirty Girl
, starring Juno Temple, and Milla Jovovich
"It's 1987 and Danielle, the high school 'Dirty Girl', is running away. With her is chubby, gay Clarke, a bag of flour called Joan and a Walkman full of glorious 80's tunes." (
IMDb
)
Click here for the trailer
Source:IMDb