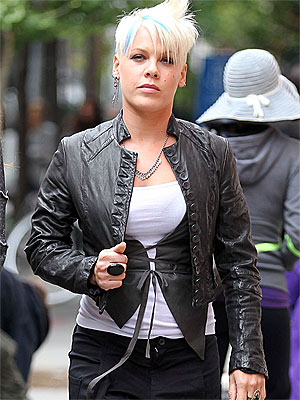 Via People Magazine
Performer Pink, is said to star in an upcoming film, Thanks for Sharing as a "free-spirited sex addict [named] Dede". The movie is a comedy centered around three people undergoing 12-step treatment for sex addiction. Although Pink has had a little bit of experience on-screen with Charlies Angels: Full Throttle in 2003, and Catacombs in 2007, this will serve as the singers first leading role.
Pink (Alecia Moore) was recently spotted in New York filming the movie. She will be acting alongside Gwenyth Paltrow, Mark Ruffalo, and Tim Robbins. Writer-director of the film, Stuart Blumberg said, "[Pink] could not be a more ideal fit for this role. She carries with her just the right combination of heart and edginess for the part of Dede, and we're incredibly excited to share her acting talent with audiences."
I'm incredibly excited to see an actual trailer for the movie. And I'm happy for Pink. You go girl!
Sources: People, IMDb