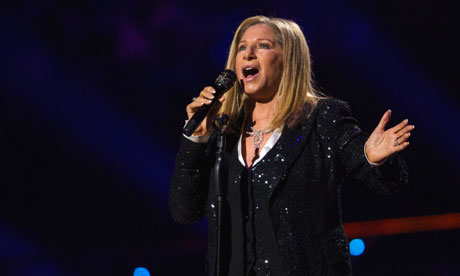 Streisand via G

uardian UK
Barbra Streisand will be forming at the Oscars airing February 24th, reports Gossip Cop. It was announced Wednesday, this will be Barbra Streisand's first time in the 36 years at the awards ceremony.

Producers of the show, Craig Zadan and Neil Meron said in a statement "In an evening that celebrates the artistry of movies and music, how could the telecast be complete without Barbra Streisand?" (Gossip Cop) Seriously? It took them this long to figure that out?

The producers also stated that they "are honored that she has agreed to do a very special performance" (Gossip Cop). This should be exciting. No additional details have been given as to what exactly the renowned performer will be singing, but it will be a treat regardless.

Streisand's last performance on the Academy Awards stage was in 1977. She also snagged herself an Oscar for Best Original Song for "Evergreen" from A Star Is Born that same year.

People have been buzzing since last weeks reveal that Adele will also be performing at the Oscars. This performance will also feature Norah Jones and a tribute to film musicals from the past decade. I just have one word for these performances: Brilliance! And I get wait.

The 85th Annual Academy Awards airs Sunday, February 24th at 8pm on ABC. Tune in!
Source: Gossip Cop